Divorce Solicitors
Whether you want to start divorce proceedings, respond to a divorce petition, reopen an old settlement, find a new divorce solicitor to conduct existing proceedings, or simply talk through your options, we can help on an hourly rate or fixed fee basis.
Contact our Divorce Solicitors in Manchester or Wilmslow for a free initial consultation.
We're rated 4.8
on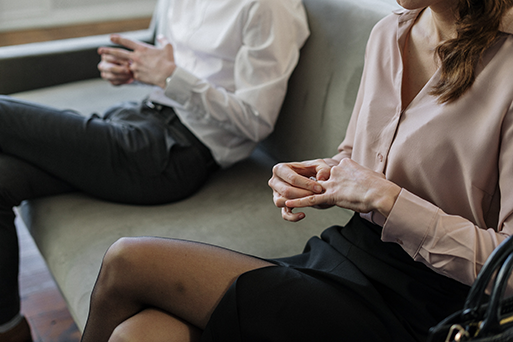 Call us
Our phone lines are open: Monday - Friday 8:30am - 6pm
Saturday 9am - 5pm
Sunday 10am - 4pm

We are closed on bank holidays.
Separation and divorce can be a difficult time in emotional, practical and financial terms. Our experienced team of divorce solicitors in Manchester and Wilmslow can smooth the path for you, sympathetically and effectively. If you have concerns over the affordability of divorce proceedings because your partner controls the family finances, we can help ensure that he or she pays your costs. In some circumstances we can also offer to work on a fixed fee basis.
The Divorce Process
The old law required people to divorce each other on 'grounds' which often required details as to why the marriage broke down.
However, this changed on the 6th April 2022 when the new 'no fault' divorce came into force. This means that now all that needs to be cited in the divorce application is that the marriage has irretrievably broken down. The divorce can be started by either party to the marriage or a joint application can be made.
Overall, the new process is aimed to make matters more amicable between the parties with the concentration thereafter being on the resolution of financial and/or children issues.
It's important to get legal advice from a divorce solicitor as soon as possible after the relationship breakdown to make sure that the divorce proceedings are issued appropriately.
Get in touch with our experts today for free, no obligation legal advice
Divorce Financial Settlements
Sorting out your divorce financial settlement is a very important part of the divorce process to protect your future, and the future of your children if you have any.
Although a Decree Absolute legally ends a marriage, it does not end any financial commitments. To end matrimonial financial commitments, you'll need a Financial Order from the Court.
Our Divorce Solicitors can help with:
Clean Break Order
Consent Order
Pension Sharing Order
We have expert divorce solicitors in both our Manchester and Wilmslow offices. Our intention is to provide the best possible service to meet your individual needs. We can then agree on a clear course of action with a cost structure, so that you are always in control.
Get in touch with our experts today for free, no obligation legal advice
Hear What Our Customers Say
"Vicky Richardson handled what turned out to be a protracted divorce from initiating proceedings through to a final hearing. Throughout the process Vicky was accessible, approachable and pragmatic. She managed my expectations by establishing what she felt was a likely outcome from the word go explaining why ground would need to be given but equally when we needed to stand firm. The end result was within a few percentage points of Vicky's original assessment and the fact the case went as far as a final hearing was purely down to the stance of the opposing legal team. Vicky kept the costs down as far as possible by keeping to only necessary contact but ensuring I was aware of what was happening and why. I also felt that Vicky listened to my opinion and spoke to me, not at me. For what is an emotionally horrific process I would thoroughly recommend Vicky as a compassionate, supportive and professional ally."
– D.R, Wilmslow
"My goto solicitors' for everything, they have never let me down. If anything they always seem to exceed my high expectations. The expertise and experience they have within the company, in my mind is second to none. A throughly professional company from top to bottom. Thank you Aticus Law for always 'saving the day'."
- J.B, Manchester
"Friendly and helpful service. Always willing to explain complex issues and discuss personalised arrangements."
– D.S, Wilmslow
"Fantastic service. Genuinely knowledgable, professional and supportive whilst helping me gain the confidence to agree the best settlement. Always contactable, great attention to detail and great value for money. "
- R.F, Manchester
"Quick, efficient and helpful team."
- A.B, Manchester
Call or email us in order for us to discuss in greater detail how our solicitors can move your case forward today.
Book a Consultation